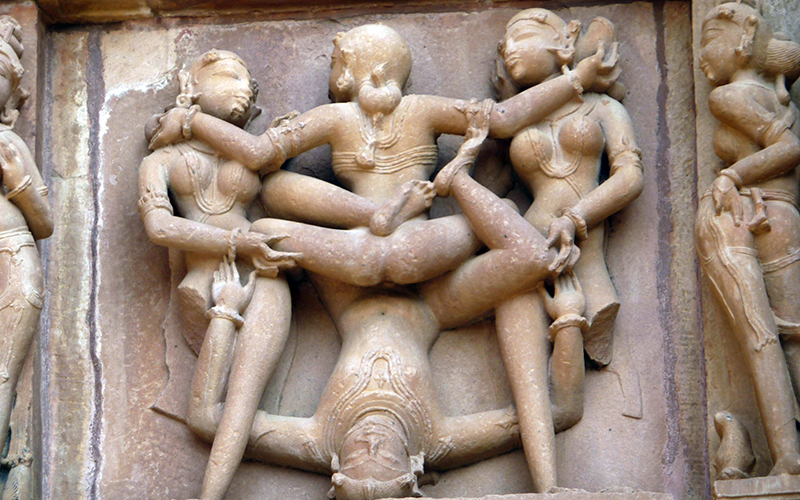 The Kama Sutra is one of the most well known scripts to everyone no matter what language you speak or where you come from. It was written, they say, somewhere between 200-400 AD in Sanskrit by a Hindu philosopher, and has been translated by the British, English, and Asian cultures as well as many others. The most well-known English translation of the Kama Sutra occurred in 1883.
While a lot of individuals think that it is simply a bunch of different pictures of sexual positions to try, the Kama Sutra holds much more in its pages. In truth, less than 25% of the Kama Sutra has to do with sexual positions.
Within its pages there are actually 64 sexual positions that can be attempted, complete with pictures and how to achieve them. But that doesn't even touch the surface as to what the Kama Sutra is really about. Inside its pages there are many philosophies, and theories of love, what triggers our desires, how to sustain it, and so forth. This includes several sections that can be many chapters long, see the following list.
General remarks–5 chapters
Amorous advances and sexual union–10 chapters
Acquiring a wife–5 chapters
Duties and privileges of the wife–2 chapters
Other men's wives–6 chapters
About courtesans–6 chapters
Occult practices–2 chapters
As you can see, each of these topics contains multiple chapters that can be read, and understood, along with the sexual positions the Kama Sutra is known for.
The Kama Sutra also points out the 4 main goals of life for anyone: Virtuous living, Material prosperity, Desire, and Liberation, all of this can be used for life lessons and not just about our sexual gratifications. The Kama Sutra is much more than a book about sex.
Many a movie and book have been created about the Kama Sutra, but whether or not they stand up to what the Kama Sutra truly is about, I do not know. If you're looking for something to research, then this is the perfect opportunity for you, and maybe it will help you understand so much more about love, life, and our existence as sexual beings.
In closing, whether you watch the movies, or read the different books that have been published about the Kama Sutra, it is something definitely worth researching and reading that can help you understand so much more than just about sexual gratification.