Brothels in New South Wales are home to some of the most exquisitely beautiful and insatiable escorts in Australia. You can find natural treasures (Aussie escorts) to exotic imported treasures (Asian escorts) at local brothels state wide that will make fantasies of the flesh a reality. Check out our list below of some of the top brothels NSW has to offer.
1. MY PLAYMATE NEW SOUTH WALES
New South Wales
www.myplaymate.com.au
Click to show phone number
The number 1 directory for escorts, brothels and massage parlours is My Playmate. We've wrapped it all into one playful package, what ever you desire can be found here. Come and explore what New South Wales has to offer, guaranteed to be unforgettable! Visit My Playmate today and find the beauty of your desires a phone call away.
687 Hunter St, Newcastle
www.salute687.com.au
Click to show phone number
If you're seeking the ultimate pleasure experience while in Newcastle CBD, visit Salute 687. It is one of the longest operating gentleman establishments that is known for their high class ladies, professionalism and attention to your needs. They offer different extras upon request. Call them today and get your fantasies satisfied!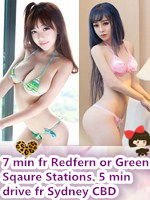 130 Botany Road, Alexandria NSW 2015
www.massagecbd.com
Click to show phone number
Welcome to the hottest & newest Studio in Sydney. Dream Girl 130 is open 7 days, 10a to 8p, just a 7min walk from Redfern or Green Square Stations & 5min drive from the CBD. The perfect place for you to get the right mix of remedial massage, fully body oil massage, relaxation massage, nude massage, erotic massage, double services, couple services & more. You will be massaged with only the highest class dream girl.
4. CLEOPATRA'S GENTLEMAN'S CLUB
12 Hargraves Place, Wetherill Park, NSW 2164
www.cleopatrasgentlemansclub.com.au
Click to show phone number
Voted BEST BROTHEL NSW 2016: Australian Adult Industry Award (AAIA) Cleopatra's is where you can experience world class luxury and a complimentary drink while waiting for the lady of your dreams. The Cleopatra Experience is guaranteed satisfaction and pleasure. You'l visit for the ladies, but you'l stay for the experience! Visit them today
5. DESIRES PARLOUR – WOLLONGONG
13 Sylvester Avenue, Unanderra
www.desireswollongong.com.au
Click to show phone number
An an upscale establishment with flawless escorts, you will be enticed by the best in Wollongong. Whether you're looking for out-call services or are visiting the premises, you'll be taken with the level of quality and experience their ladies provide. No matter what your sexual desire, fantasy or taste, they will not go unfulfilled at Desires.
6. DESIRES PARLOUR – BROOKVALE
18 Chard Road, Brookvale
www.desiresbrookvale.com.au
Click to show phone number
No fantasy goes unfilled at Desires Brookvale with flawless escorts available for out-call or in-call services, GFE, erotic massage, doubles, married couples, role play session and more at NEW LOW PRICES @ 20% off (limited time only)! The upscale establishment is where you'll find fantasy meets reality. Visit Desires Parlour of Brookvale today.
7.N&N 24 AUBURN
24 Auburn Street, Wollongong NSW 2500
(02) 4244 8008
www.24auburn.com.au
24 Auburn is conveniently located at 24 Auburn Street. This is one of the stylish brothels in NSW where gorgeous ladies make sure your dreams and fantasies come true. You are assured of clean and caring ladies who want nothing else but to please you.
8.LOVE SHACK
13 Steel St, Newcastle West, NSW 2302
(02) 4929 3877
www.love-shack.com.au
Love Shack provides quality but low price full-service in Newcastle. Love Shack provides one of the best services you can find in Newcastle. Choose from the young to the not so young but fully experienced and beautiful ladies that can give you the best feeling a partner can ever give.
9.PHOENIX 55
55 West Street Wollongong NSW 2500
(02) 4226 5553
www.phoenix55.com.au
Find the most exotic Asian ladies to fulfil your desires at Phoenix 55. With luxurious private rooms and quiet stylish premises, Phoenix 55 is one of the brothels in NSW not to be missed.
10.MERMAIDS COFFS HARBOUR
19, 25-27 Hurley Dr, Coffs Harbour NSW 2450
(02) 6651 1533
www.mermaidescorts.com.au
Mermaid Escorts is one of the legally licensed brothels escorts in NSW. Situated in Coffs Harbour on the Mid North Coast of NSW, it is one of the escort agencies and brothels in NSW that offers a safe and secure work environment for their head-turning beauties.
11.GYPSY'S KITTENS & COUGARS
28 Riedell Street, Wagga Wagga NSW 2650
(02) 6971 7500
www.gypsyskittenscougars.courtesansites.com
Gypsy's Kittens And Cougars: the name says it all. This establishment offers exquisite ladies of different ages to suit different clients. This is one of the finest brothels in NSW, located in Wagga Wagga. Just relax and enjoy the pleasures with their stunning local and international beauties.
12.ASIAN STAR ON HUNTER
557 Hunter St, Newcastle
(02) 4927 0522
Asian Star is one of the Asian brothels in NSW. Meet and spend time with the exotic and mysterious ladies at this brothel. Take advantage of the great service they offer whilst enjoying Newcastle's stunning coastal location.
13.CENTREFOLDS WAGGA WAGGA


Find the exquisitely beautiful and passionate escorts at Centrefolds. Each one is a knockout and a real fantasy in heels with a wealth of experience in turning your dreams into reality.
14.GATEWAY CLUB
474 Parramatta Road, Petersham
(02) 9560 8066
www.gatewayclub.com.au
With 14 deluxe rooms, the infamous Gateway Club & the 'Gateway Girls' have been at the top of Sydney's gentlemen club scene for over 30 years and are experts on delivering sensual pleasure .
15.THE ESTABLISHMENT
76-78 Industry Drive Tweed Heads South NSW 2468
755247666
establishment.net.au
Brand New Renovations! The Establishment is the Gold Coast and Tweeds Head premier adult entertainment venue with executive style and luxury, you are provided with the most erotic encounters and sensual encounters with some of the most beautiful women, arrive at The Establishment with an insatiable appetite and leave fully satisfied that you'll always keep coming back for more.
New South Wales is the most populous State in Australia. With the ethnic communities from more than a hundred countries, NSW has become a highly urbanised population. From beaches to lush green forests of the Blue Mountains, NSW is home to some of the world's most famous and vibrant cities. You can eat and drink your way through the Hunter Valley, chill out in Byron Bay, or 4WD across the sands of Lorde Howe Island. New South Wales has it all. New South Wales also has the most amiable legislation on prostitution. You will find a great number of brothels and escort services scattered in and around the suburbs of this state in Australia.

If you are seeking brothels Coffs Harbour, Wagga Wagga, Newcastle, Wollongong, North Sydney, Brookvale, Surry Hills, Parramatta, Central Coast and every city in between and beyond has a surplus of adult entertainment. Each of the brothels in NSW caters to the many desires and needs of the males in Australia and the males visiting Australia. Asian brothels in New South Wales can provide erotic massages, Nuru massages (body glide massages), rub-n-tugs, and more. If you seek costume play (cos play), role playing, threesome (ménage a trios), foursome, cross dressing or something else, a NSW brothel can accommodate your fantasy or desire and make it a reality.