Ever dipped your toe into the world of sex-for-hire? Red light districts where brothels swarm exist in many parts of the world. Brothels are legal in most parts of Australia, and in Sydney, you can find upscale bordellos across the metropolitan area that can turn your fantasies into reality. Here are some of the brothels in Sydney …
535 Glenmore Road Edgecliff
www.liaisons.com.au
Click to show phone number
LIAISONS is Sydney's only multi award-winning brothel with stylish elegant surroundings that will make you feel truly relaxed and very comfortable. LIAISONS aims to take their clientele into the days of glamour style by building a world of pure pleasure for the man who appreciates class and ensures your stay is one to remember. Visit Liasons today for the best sensual experience you can have in Sydney. Don't delay, visit today.
Sydney
www.myplaymate.com.au
Click to show phone number
My Playmate is Australia's leading directory for escorts, brothels, massage and more. If you are looking for an array of gorgeous ladies to choose from, or would like to try something different; like an erotic massage, pornstar experience or even a girlfriend then visit My Playmate today and start exploring your wild side.
3. CLEOPATRA'S GENTLEMAN'S CLUB
12 Hargraves Pl, Wetherill Park NSW
www.cleopatrasgentlemansclub.com.au
Click to show phone number
BEST BROTHEL NSW 2016 – Australian Adult Industry Award (AAIA) - Experience a world class luxury brothel. Be greeted with a complimentary drink while you await an array of beautiful & exotic ladies. Cleopatra's is the finest establishment in Sydney and our luxury suites have to be seen to be believed. Come & delight in the Cleopatra Experience. This 5 star Sydney brothel in Western Sydney is where for the best experience.
82 Parramatta Road. Camperdown. NSW, 2050
www.stiletto.net.au
Click to show phone number
STILETTO is Sydney's biggest legal brothel. This private, luxury bordello has been designed for the ultimate pleasure. Being one of the high-end brothels in Sydney, STILETTO has a signature concept mixture of sex and theatre that provides the most erotic experience in Sydney. Their rooms set moods of intimate delight, and their seductive, sophisticated ladies take the experience to a whole new level. Visit them today.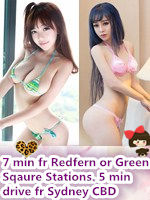 130 Botany Road, Alexandria NSW 2015
www.massagecbd.com
Click to show phone number
Welcome to the hottest & newest Studio in Sydney. Dream Girl 130 is open 7 days, 10a to 8p, just a 7min walk from Redfern or Green Square Stations & 5min drive from the CBD. Uniquely the best place for you to get the perfect mix of remedial massage, fully body oil massage, relaxation massage, nude massage, erotic massage, double services, couple services & more!
Sydney
www.asianbrothels.com.au
Click to show phone number
Asian Brothels Sydney is your answer to all Asian cravings. Delve into the world of delicate Asian escorts offering full service, erotic massage, rub n tugs, double acts, toy shows and many more. The ladies at Asian Brothels Sydney hail from many different Asian countries; hand-picked for their sex appeal and grace.
26 Railway Street – Chatswood, NSW
www.lapetitearoma.com.au
Click to show phone number
Situated 10 minutes north of Sydney, this brothel in Sydney has the largest line-up of stunning and exotic women you will find in Sydney. Meet girls from Australia, Asia, Europe, Africa, and the Americas. Drop in and see a world of glamour and sophistication in La Petite Aroma in this Sydney brothel. Don't miss experiencing the best of the best at La Petite Aroma. One of the best brothels Sydney has to offer. Visit today.
121 Pyrmont Street, Darling Harbour NSW 2009
www.club121.com.au
Click to show phone number
CLUB 121 is a discreet, five-star terraced brothel that is one block from 'Star City' Casino. It's located in the heart of Sydney's CBD. It is one of the brothels in Sydney that provides a full service with attractive, passionate and sensual ladies that give high-quality service and are experts in the art of eroticism. Visit this Sydney brothel today for five star service that you will want to experience time and time again.
9.AMORE
671-673 King St, St Peters NSW 2044
(02) 9565 2132
www.amore.com.au/home-page.php
AMORE is a new addition to the array of quality brothels in Sydney. It is a gentlemen's brothel /parlour where you can relax and enjoy the company of the very seductive and elegant ladies in stylish and luxurious surrounds. They are well known for having beautiful yet very friendly girls who provide discretion and satisfaction. You won't regret visiting this Sydney brothel. Go and delight in your most sought after desires.
10.THE PENTHOUSE
250 Pitt Street Sydney CBD NSW 2000 Australia
(02) 9264 6610
www.thepenthouse.com.au
The Penthouse is one of Australia's premier gentlemen's clubs with a reputation of providing the finest ladies for the astute gentleman. The Penthouse is one of the top brothels in Sydney that blends passion and pleasure with unbridled luxury to satisfy your every desire which is the reason why numerous gentlemen treat The Penthouse as their own private club. Visit this Sydney brothel today and experience a lifetime of memories.
11.PENNY'S 77
Upstairs, 77a Enmore Road, Newtown
0404 658 888
www.pennys77.com.au
Only ten minutes away from the CBD, Penny's 77, a boutique Asian brothel, has a luxurious 5 star design for your ultimate pleasure. Let the most seductive and sophisticated Thai ladies in Sydney set the mood of erotic delights so that you can have that special intimate service you've always longed for.
12.MISS HEAVENS
6 Cleg Street Artarmon
(02) 9439 4211
www.missheavens.com.au
Miss Heavens is a paradise for men who enjoy a mature woman; a woman that knows what she's doing. If you're looking for experience, sensuality and confidentiality then visit the vixens at Miss Heavens...
13.VIXENS 271
271 Marrickville Rd Marrickville NSW 2204
(02) 9564 2872
www.vixen271.com.au
Vixen 271 is a fully licensed Sydney brothel is located in Marrickville, offering Sydney's finest adult service near CBD. Our escorts meet a strict selection criteria, offering only the best Sydney escort girls' 7 x 24 hours adult service.
14.STUDIO RELAX
17 Bermill Street 2216 Rockdale
(02) 9567 9494
www.studiorelaxgirls.com.au
Experience the most sensual and pleasurable times with Studio Relax Gentlemens Club. We offer tantalising full service and erotic full nude body slides, that will arouse your mind and body like nothing you have experienced before. Our club is located at a very secluded place in Rockdale
15.GINZA CLUB
310 Cleveland St, Surry Hills 2010
(02) 7901 3000
www.ginzaclub.com.au
GINZA CLUB is Sydney's premier Asian Bordello. Their luxuriously appointed themed rooms are the perfect place for a gentleman to lose themselves for an hour or two. This brothel in Sydney has an array of gorgeous ladies whose only aim is to please their man. Their ladies come from all parts of Asia – Sydney's most desirable collection of genuine youthful Japanese girls, as well as young seductresses from China, Thailand, Singapore, Korea and Malaysia.
16.BLACK GARTER
17 The Seven Ways Rockdale 2216
0447 804 216
Black Garter is a Sydney brothel with a fine reputation for being Sydney's leading social venue. Black Garter is famous for entertaining local and international guests, royalty, entertainment and sporting celebrities. It's one of the brothels in Sydney that men seek out for. Visit this Sydney brothel for the best sexual experience Sydney can offer. You won't regret your time there. Go to Black Garter today.
17.HORNSBY 142
142 George St Hornsby NSW 2077
(02) 9482 9456
www.hornsby142.com.au
Hornsby 142 offers the best erotic massages and adult services in Sydney. Like a hidden gem waiting to be discovered, Hornsby 142 is one of Sydney's best kept secrets where the girls are young and passionate about their work that they live to pleasure their customers. The rooms give off a sexy sultry feel with amazingly arousing surroundings and comfortable beds and facilities. Once you step in, you won't want to step out.
18.GOLDEN APPLE
169 Victoria St, Potts Point NSW 2011
(02) 9357 2555
www.thegoldenapple.com.au
Golden Apple is a pleasure brothel/parlour that is conveniently located near the popular 'Red Light District' of Kings Cross and only 7 minutes from Sydney City. It is a brilliant example of timeless style classic design which at first glance creates the impression of class and sophistication. Being one of the top brothels in Sydney, it has a select team of young and glamorous models from Australia's best with a personality and style.
19.SAKURA PALACE
57 Reservoir Street, Surry Hills
(02) 9281 2818
www.sakurapalace.com.au
Seeking an Asian brothel in Sydney. Sakura Palace is a council approved Sydney brothel established in 1993 and is centrally located in Surry Hills. All their hostesses are Asian and you can expect to meet women from Japan, China, Malaysia, Thailand, Vietnam and Taiwan. No matter what type of Asian you crave, Sakura Palace can satisfy it. Visit this Asian Sydney brothel today and get your appetite satiated and your hunger satisfied.
20.CASABLANCA
239 Northumberland St,Liverpool, NSW, 2170
(02) 9822 4830
www.casablancabrothel.com.au
This 5 star brothel in Sydney that has an exotic impact on ones senses. Their vibrant nightclub decor and party ambiance, along with their impeccable reputation attracts the prettiest and welcoming ladies, all dedicated to providing an equally erotic experience. Casablanca has a wide variety of beautiful ladies from all over the world. Casablanca has raised the bar on service and quality which is why they are one of the top brothels in Sydney.
21.DESIRES PARLOUR – BROOKVALE
18 Chard Road, Brookvale
(02) 9939 5555
www.desiresbrookvale.com.au
Desires Parlour of Brookvale is one of the best brothels you will find in the Northern Beaches. Their ladies are available for in-call or out-call and they offer a large variety of services. Your wish is their command! So don't be shy and just ask. These beauties aim to please and love what they do so it's guaranteed that all your desires can be fulfilled.
22.WIVES ONLY
673 King Street St Peters, NSW 2044
(02) 6109 5038
www.wivesonly.com.au
Wives Only is a high class Sydney brothel for gentlemen who seek for the finest experience. They are conveniently located in the city fringe suburb of St Peters. Their gentlemen club has gone through a complete refurbishment and is the envy of all competition. Wives Only offer sexual services and amenities where you can expect to see the best brothels of the world.
23.UNI GIRL'S SYDNEY
Sydney
(02) 9468 1500
www.unigirls.com.au
Young, beautiful and eager to please. Sexy and very naughty, we have the best collection of young, beautiful, talented, friendly escorts. Real temptation that no man will be able to resist. Exciting blondes, delightful brunettes and beautiful redheads. Uni Girls Sydney are at your service 24/7.
24.COUGARS OF SYDNEY
Artarmon NSW 2064
(02) 9468 1600
www.cougarsofsydney.com.au
Cougars of Sydney lets you experience the true pleasures of mature and passionate ladies. Located on the North Shore, the captivating ladies of Cougars of Sydney will seduce and please. The top mature brothel for years, the establishment is pure heaven. Meet their seductive angels today and make your fantasies a reality tonight. Don't miss experiencing the best ladies North Shore has to offer with Cougars of Sydney.
One of the largest Australia's cities, Sydney is best known for its iconic landmarks the Sydney Opera House and Harbour Bridge plus its beautiful Royal Botanic Garden where you can sit in Mrs Macquarie's Chair and see both the Sydney Opera House and Harbour Bridge. Darling Harbour and Circular Quay bring waterside life of restaurants, bars, and clubs to life with stunning water views of the Sydney Harbour.

Don't let the historic icons fool you into thinking that adult entertainment in Sydney is hard to come by. The naughtier side of adult nightlife in Sydney is a booming business. You can find a brothel in almost every suburb of Sydney from Brookvale to Wagga Wagga and popular suburbs like Surry Hills, Darlinghurst, Newtown, Mosman, Milsons Point and more. If you're seeking a brothel with a view, bordellos exist from Central Coast to Bondi to Cronulla to Wollongong. Though "red light" districts are no longer needed in Sydney, the former red light district of Kings Cross, known as The Cross, to most Sydney-siders, caters to those seeking pleasure of the erotic kind with brothels, erotic massage parlours, and escorts.

With Sydney being in the state of New South Wales (NSW), it is fortunate to have one of the most liberal legislation on sex-workers and brothels are legal in NSW under the Summary Offences Act 1998. You will be able to find whatever your fantasy is with a quick search of the internet. Brothels in Sydney can cater to those who seek an Asian beauty, an Aussie beach babe, a buxom brunette with European looks, and more.

No matter what kind of fun you are seeking in Sydney, the brothels in Sydney, will cater to your needs. Want a young uni type nymph or a mature cougar, Sydney brothels have you covered. Seeking an exotic Asian beauty, the plethora of Asian brothels in Sydney has every type of Asian girl you could ever dream of? Want to be tied up or tied down by a dominatrix? There's a brothel just for that. Visiting brothels in Sydney is on par with visiting a 5-star luxury hotel. You're treated like the VIP you know you are or dream of being and have only the finest woman available to you. You can visit a brothel for a night or hire the girl of your dreams to visit you in your hotel or wherever you are staying. Brothels now are the trifecta of adult fun providing girls locally in their establishment, providing escorts for out call services and working as an agency as well. In Sydney, know that you can have your cake and eat it too when it comes to sexual desires and sexual fetishes. Sydney brothels leave nothing out and cater to everything you can imagine. If you're visiting a brothel for the first time, you can rest assured that it is regulated by its local council and that the establishment abides by the rules and regulations.

Have fun while you're in Sydney! Visit any of the Sydney's brothels for the naughtiest fun around. Follow us on social media @BrothelsAU on Facebook, Instagram, & Twitter where we share the latest news on all Sydney brothels.

Most Searched Terms: Brothels Sydney, Bordellos in the Sydney CBD, Asian brothels in Surry Hills, North Sydney, Chatswood, the Inner West, Parramatta, Bankstown, red light district Kings Cross.